Back to overview
Zahlen, Daten, Fakten
Vertrauen
VERTRAUEN ist die Währung, die im Krisenfall zählt. Bei der Flut an unverlässlichen, falschen und irreführenden Bildern und Nachrichten ist es für Mediennutzer/innen besonders wichtig, über vertrauenswürdige Informationsquellen zu verfügen. Jüngste Umfragen belegen das hohe Vertrauen der Menschen in Österreich in die Informationsleistungen des ORF.


REUTERS DIGITAL NEWS REPORT 2020:
ORF "vertrauenswürdigste Nachrichtenmarke" in ÖSTERREICH

Der Digital News Report
des Reuters Institute for the Study of Journalism (DNR) gibt aktuelle Einblicke in die weltweite digitale Nachrichtennutzung. Mehr als 80.000 Newskonsumentinnen und -konsumenten aus 40 Ländern und fünf Kontinenten beteiligten sich an der globalen Untersuchung.


Ergebnisse in Österreich:

⇒ 65, 5% der Befragten bewerten den ORF als "vertrauenswürdigste Nachrichtenmarke" des Landes

⇒ ORF 2, Ö3 und ORF 1 sind die Top-3-Nachrichtenquellen


⇒ Für 35, 6 % ist ORF.at ist die meistgenutzte Quelle für Online-Information


Die Österreich-Ergebnisse der Reuters-Studie wurden am Dienstag, dem 16. Juni 2020, vom österreichischen Kooperationspartner Univ.-Prof. Dr. Josef Trappel und seinem Team der Universität Salzburg präsentiert.

Zum Volltext des "Digital News Report 2020"

--------------------------------------------------------------------------------------------------------------



WENN´S DRAUF ANKOMMT: Umfrage zur Mediennutzung in der Corona-Krise


Von 9. bis 16. April wurden 1007 Personen in Österreich (zwischen 15 und 74 Jahren) zum Thema Kommunikation und Information zur Corona-Krise online befragt.

Ergebnisse:

⇒ Für mehr als 80% der Befragten ist der ORF das Top-Informationsmedium.
(59% der Befragten gaben an die Nachrichtenangebote der ORF-Radios bzw. des ORF-Fernsehen regelmäßig zu konsumieren, 23% tun dies gelegentlich.)

⇒ 70% der Sehr-gut-Informierten-Befragten nutzen regelmäßig ORF-Medien.

⇒ Über 50% der Befragten wurden auch mit Fake News konfrontiert. Dabei handelte es sich inhaltlich meist um falsche Informationen bezüglich der verordneten COVID19-Maßnahmen oder um Verschwörungstheorien.

⇒ 92% der Befragten fühlen sich durch die Medien in Österreich sehr gut beziehungsweise eher gut informiert.
⇒
Eine/r von sieben
Befragten glaubt an eine nachhaltige Veränderung des Medienkonsumverhaltens.
Die Umfrage wurde von der Kommunikationsagentur
ikp Wien
beauftragt und von
Triple M Matzka Markt- und Meinungsforschung
durchgeführt.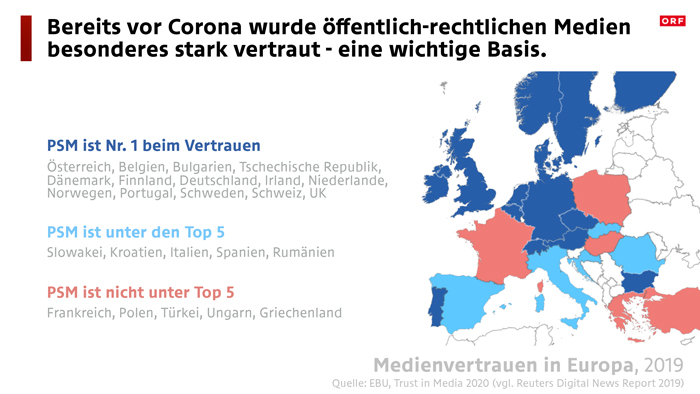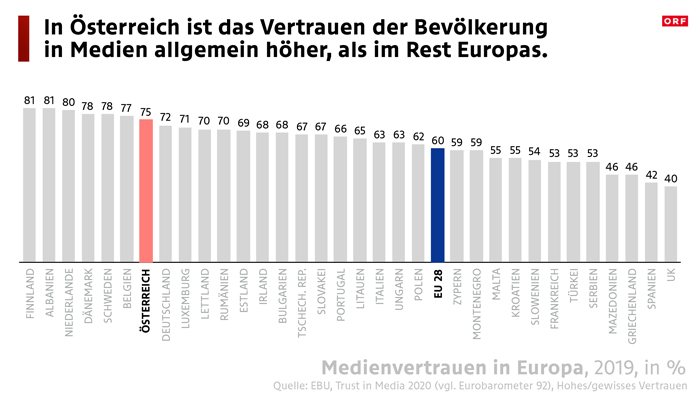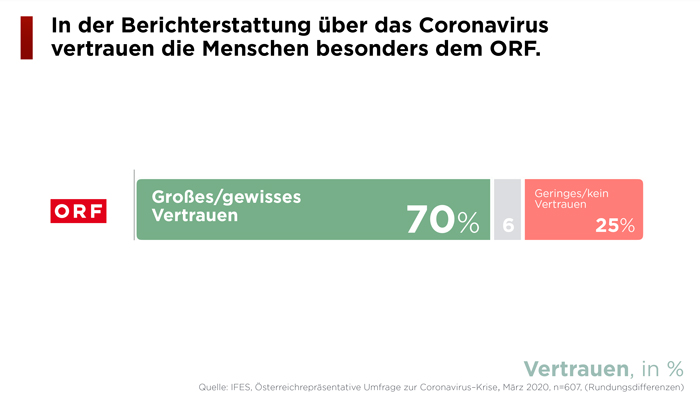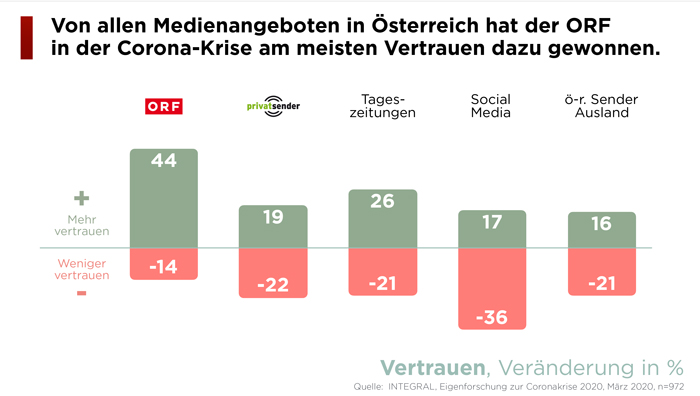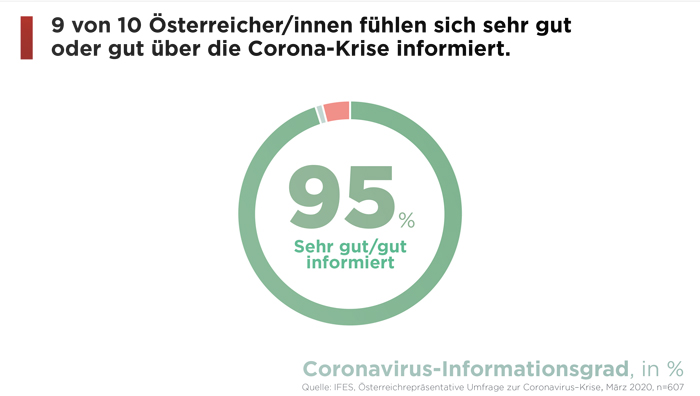 Zahlreiche weitere Informationen und Kommentare zur Vertrauenswürdigkeit öffentlich-rechtlicher Medien finden Sie
HIER
.